Lavender
VIBRANT TWIN ROOM SUITABLE FOR FRIENDS AND TRAVEL PARTNERS.
This room is accessed by a spiral staircase.
A simple twin room with ample space for comfortable living. Lavender is on the first floor and accessed by a spiral staircase and found on a quiet, country road. The room is airy and enjoys plenty of natural light throughout the day. Additionally, the bed and breakfast is located on a quiet village road, promising a peaceful stay.

The room includes two twin bed and is equipped with a sizable wardrobe and chest of drawers. The private bathroom comes with a shower. Lavender is suitable for individuals or friends travelling together, and also the preferred choice for longer stays due the comforts it provides. Additional amenities included high-speed WIFI, an air-conditioning and heating unit, and a flat screen TV.

As a guest at Il-Wileġ Bed and Breakfast, you will also benefit from a fresh, homemade breakfast served in our lovely terrace every morning. Daily housekeeping is also provided. Learn more about what to expect from a stay at Il-Wileġ Bed and Breakfast in Qala Gozo.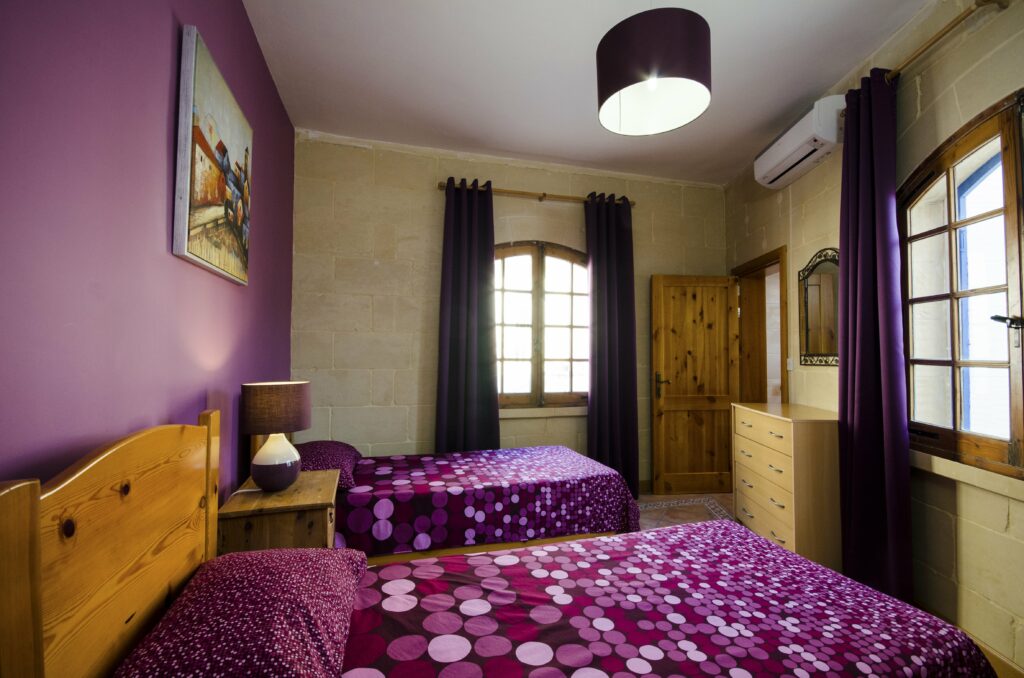 Book this room today and reserve your spot.
Très belle maison décorée avec goût et fleurie. Grande chambre avec terrasse avec une magnifique vue. Piscine très agréable. Propreté à tous niveaux.
I would highly recommend and would certainly return if traveling to Gozo again. Could not have asked for more!
The service was perfect. Martin was kind enough to do everything we asked and always did everything perfectly. The view was amazing at night!